The Wankel Aviation GmbH is a joint venture of the
Wankel SuperTec GmbH
and the certification office Fräbel, which has decades of experience
in the development of exceptional rotary engines
with in-depth know-how in
aviation products and complex systems.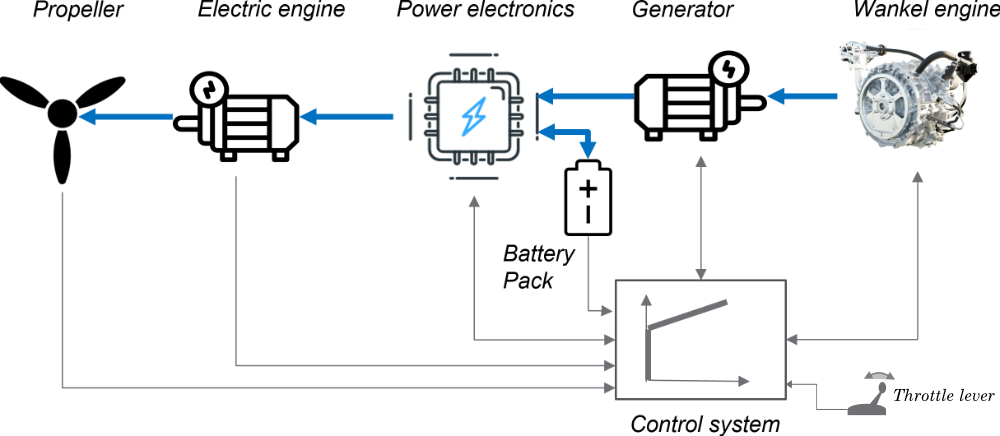 Wankel Aviation focuses on hybrid propulsion systems for electrically powered drones and light aircraft.
Core components of these hybrid propulsion systems are:
the Wankel SuperTec rotary engines
matching generators driven by the rotary engine, generating electricity and serving as starters for the engine
power electronics
a buffer battery that provides power for starting the system and for peak demands
an electronic control system
electric motors to power the aircraft.
Hybrid propulsion systems allow for smaller internal combustion engines than direct drive systems. The internal combustion engines in hybrid systems can be operated close to their design point, providing unmatched fuel efficiency. In addition, an electric hybrid system supports optimal matching of efficiency between the engine and propeller.
We began developing hydrogen-powered engines in 2018, commissioned the first such engine in 2019, and have been further optimizing it ever since.

However, the use of hydrogen in aviation raises challenging questions about the safety of the overall system on board the aircraft. Certification requirements must be considered early in the aircraft development process to ensure the aircraft receives EASA or FAA certification. We can assist you in developing certifiable hydrogen propulsion systems for later integration into the aircraft.

We would be very pleased to assist you in making your aircraft safe with hydrogen.
Contact

ulrich.fraebel@wankelaviation.com